Recently watched a documentary video series, "搭车去柏林", To Berlin By Thumb, about 2 guys from China, Beijing, taking a long trip from Beijing to Berlin, not flying but taking free road rides from the help of strangers all along the way. The main purpose is one of the guy wanted to meet his girlfriend in Berlin, and by this way he says, its meaningful and romantic. A very cun and meaningful series to watch.
Its very interesting watching how they go along in their journey, what people they met, how surprisingly a stranger, especially in those countries, would be so gracefully helped them, accompany them along and so on.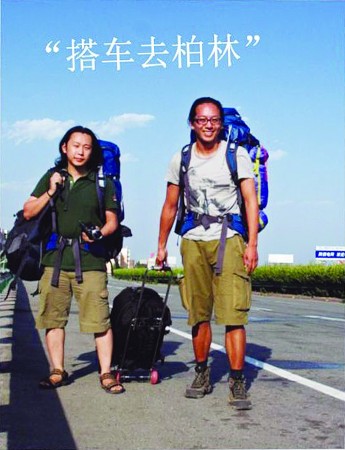 The guy in specs who is the one who meeting his girlfriend in Berlin. Before the trip he quit his job, sold out almost everything he owned, and made a few backpacking trip and went through 42 countries around the world. While the other guy is an independent documentary film director and worked for National Geographic.
I watched this from PPS